Good evening! Anna's been a sweetheart and doing the blogging whilst Im lazing about or showering. Currently using her ipad because we had an incident with her ending the life of my laptop charger. Excuse any typos in advance thanks to my fat unco fingers.
Today was our second day in Valencia!
We started the day with breakfast and we tried horchata for the first time. It tasted a lot better than we expected and I think I'll be trying more of these later on our trip.
After breaky we ended up back at the hotel and leaving at 1pm because Anna needed to charge her camera. We had a late start but we knew exactly what we wanted to do today and off we went to our first stop, Mercardo Central markets. This market is huge and there were a huge selection of stalls selling meats, cheese, breads, fruit, veggies and other foods. It seems that the locals go here to shop as well so it was really a treat to experience something that wasn't just targeted at tourists. We wandered around and decided to make a dash and collect some ingredients for our lunch because the markets closed at 2pm and Anna was dying for the loo (which happens quite frequently).
It was a lovely picnic-tapas-eat-with-your-fingers kind of lunch. Here is a video of what lunch consisted of. We've been having too much fun making videos for you guys to watch. Well... We find it hilarious watching them over and over again!
We found a frozen yoghurt place and we shared a small tub each and after a short rest we were off again. By now the sun was out full force and we were sweating on our trek to the museo de bellas artes San pio v. This was an art museum and it housed quite an impressive selection of Spanish art. Anna did a fab job of explaining the religious paintings to me. I didn't think I would be in a museum-y mood but I found myself enjoying the artworks and as usual, left amazed. It was a cool relief from the sun but we spent a fair bit of time in there it started to feel chilly and we wanted to get out in the sun again.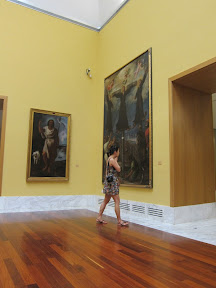 The next stop was Torres Serrano. We climbed this place that once used to be a fortress and it offered panoramic views of Valencia so it was ideal for photos.
We wandered around the rest of the city and a few rest stops were made because we were simply exhausted from the heat. Dinner was delicious and we had squid ink seafood paella shared between us (lesson learnt from last night) and I was glad that Anna found it delicious too!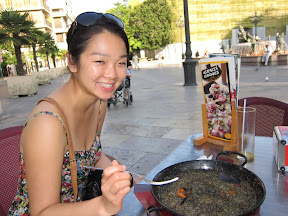 Today was a rather long day and we were both surprised at how much we managed to fit in one day. Tomorrow is THE DAY!! We are incredibly worried about losing our tops, getting crushed and rinsing out tomato seeds for the next few days. But more so the first! Early wake at 6am so I shall end here and hopefully in our next post you will get to see photos of us in the WORLD'S LARGEST FOOD FIGHT!!!!!!!!