Today was Awesome!
Chia and I woke up nice and early at 6am to catch the 'thisisvalencia' bus to Bunol. Chia was able to get us a 'no frills' deal where we got a return bus ride and a t-shirt. It was perfect.
The bus was located in the Historical Centre, which was a refreshing, cool, 20 minute walk from our accommodation.
While waiting to get onto the bus, we became acquainted with Audrey and Troy, a super nice couple from Melbourne, who ended up being our 'La Tomatina Buddies' as we stuck together for the long walk from the buses to the city centre where the food fight took place.
We all wanted the same thing, a place where we would not be with the crazy people, drunk on alcohol or La Tomatina fever, who would be reckless or rip off our shirts. We ended up finding a place which had a few little lanes that we could escape if needed be, but we were still in the crazy part as we were the first area the trucks came with the tomatoes.
There was a lot of mob singing 'oleh, oleh-oleh-oleh, oleh, oleh' and 'I love you baby, and if it's quite alright, I need you baby, to love and hold me tight...' in an attempt to provoke the locals who looked upon us from above, to splash/hose the crowd with water. We managed to stay dry, up until the very last minutes before the fight.
After waiting for 2 hours and seeing only water, we heard a horn, we then heard the crown cheer, and then slowly, tomatoes were appearing from the sky. We then saw the truck slowly making it's way down the street, pushing the crowd to either side of the wall, squashing everyone against the walls. Chia and I stayed together, however, we lost Audrey and Troy, but we all had massive, crazy, childish, food fighting fun!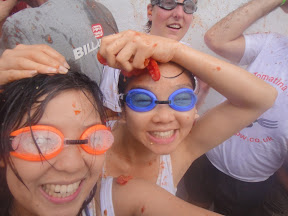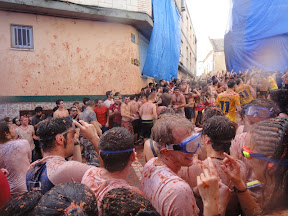 There are videos! But for some reason, they are unable to be played on my iPad, and I've lost the video of when the trucks came, and one of the best photos taken of Chia and I =((((( sorry Chia!
The videos that remain will hopefully be uploaded soon.