Today Chia and I spent our last day seeing and doing things that we needed to do before we left.
Casa Batllo
Another one of Antoni Gaudi's work, and one which both Chia and I really really liked. We both thought that it was like a dream, psychedelic and 'Alice in Wonderland' like. The amazing things to note were that there were no straight lines in the architecture of the building, the walls, ceiling, windows and colours were design in a way to maximize light and temperature.
The walls are painted to replicate the scales of a fish, the internal skylight room is painted in blue, starting with light blue at the bottom of the house, and gradually getting darker at the top of the house, because the light is brighter up on the top.
The walls and doors have vents sliced through them, appearing like fish gills, but allows air to move between rooms and allow the passage of light. It's just such a crazy, practical house.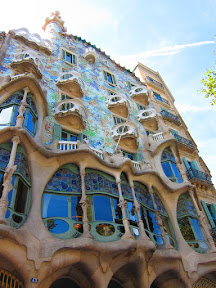 This fireplace is shaped like a mushroom, and to the side of it (behind me, and on the left side) there are benches for people to sit on!
Our last dinner
Chia and I made sure that we had an awesome last dinner together. We wanted to savor the moments, including this quirky thing that we found to be common in the Spanish accommodation that we have stayed in:
We ate at a place called Les Quinze Nits in La Placa Reial, which was suggested by Joce and Ed. They warned us that there would be a line, and when Chia and I went there the day before, we couldn't get in. So tonight, we went as early as 6.30pm, and got a seat with no wait. However, as soon as we sat, the line grew and grew.
The food was good, and pretty cheap. We ended up spending approximately €38 for an entree, appetizer and two mains.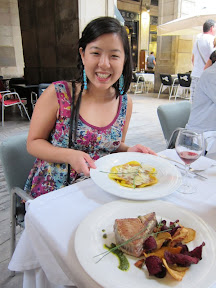 Being super hungry and drinking 1 litre of sangria results in:
Other stuff
Yesterday, we had a relaxing day, and one of the highlights was going back to Mercat Boqueria to have tapas from:
This was a codfish salad, which was delicious! Chia and I also really loved the chic pea salad.
I really liked the old man. He was super cute. However, Chia preferred our waiter. =P
We also decided to have a bit of desert afterwards, and after seeing Gaudi's houses at Parc Guell, which we thought looked like gingerbread houses, I felt like this little fella:
So, our time in Barcelona has come to an end. I will miss the girly chats with Chia, which have been so inspiring and fun. But I am sure there will be more fun times ahead together!