Well well...We've missed out on a fair bit and trying to catch up on our blogging tonight.
Today is our first day in Barcelona. Definitely a contrast to lazy town Ibiza. The buildings here are a rusty brown and there crowds of people here. It was a little dizzying for me because there are so many things to see. Either we were tired or all mapped out but reading maps today proved challenging. These are some of the places and things we saw.
Las Ramblas
We ate so much food at La Boqueria, a large market in Barcelona which had things like fresh fruits, fruit juices, meats, cheeses, and a whole lot of Pinxtos places which were either closing, or had no spaces to stand try.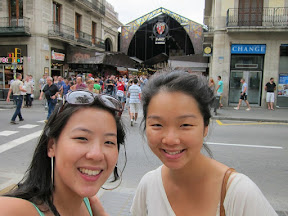 Up the elevator of Mirador de Colom for panoramic views of the city
Wandering by the port and finding our bearings
Going shopping! Yes shopping here is fabulous! Plenty of quirky things to buy.
We actually covered a fair bit. I'm constantly feeling that we don't have enough time and trying to squeeze in as much as possible in a day to the point where we're exhausted with aching feet and shoulders and Anna and I are unusually quiet.
We didn't have time to blog yesterday because the night before we went out clubbing to a place called Grilled and we had another busy day after that.
At Ses Salines beach. Words cannot describe how much I miss the beach and swimming! We worked on our tan and trying hard not to gawk at the people. Plenty of toplessness going on here.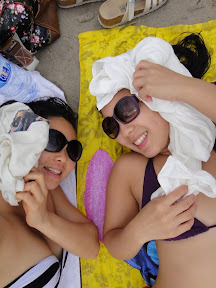 A nice long evening stroll to Dalt Villa. The views from this place made me fall in love with Ibiza.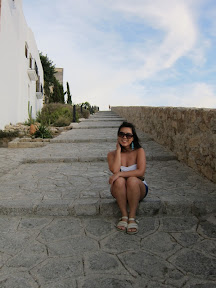 We had our first tapas experience! This mixed selection of tapas was mouthwatering and we had fun trying all the different tapas.