Hey chia!
Awwww I lost my post!! So I'm re-writing this all over again! =(
First of all, Christmas over there seems to be getting better and better! So far, the most Christmassy thing I've seen here is in London Court:
Walking down London Court, I can almost see snow falling gently and into this intimate and quaint lane. However, the current weather indicates that it's very unlikely for that to happen. Ah... I would love to have a white Christmas. Somewhere magical. Whether it be in Bavaria or in NY or Canada... Somewhere where Christmas is REALLY Christmas. But then I am getting desperate, so I'll settle for a white Christmas anywhere!
In the mean time London Court is it for me, as well as these pretty fairy lights under the Aviary:
The Aviary is a new roof top bar in the city. If you ever come back, we gotta check it out. It's really nice for summer and those long afternoons, sipping on a sweet drink, having the sun slowly set before you and with the welcoming warm summer breeze at your back.
Oh! And regarding your question 2 posts ago, Yes! We all enjoyed the food we made at high tea! =D
The rest of this week has been ok. However, on Monday I was surprised by Kev with this delivery at my office:
They are sooo happy!! And they totally made me smile! And I am totally taking care of it do that they last longer!
My office now looks like a colourful jungle!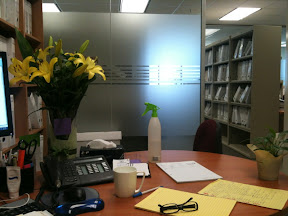 Hopefully Phyllis will be inspired to grow some flowers! It DID grow 2 new stems this week, so perhaps flowers will come too!