Hey Chia!
Oh! Tintin! I used to read that when I was young too! But that was your very first 3D experience?!?! Oh wow! Yea I love it! It really brings the fun back into going to the cinemas again. I mean we all now have HD tvs, and HD computer screens, seeing a good quality movie is as easy as clicking a button these days.
But 3D... That's something. However, when I was at the AILA conference a few weeks back, one of the directors of another firm showed off his awesome new laptop, that came with... Yup you guessed it, 3D! It came with special glasses, and then you switch into 3D mode, and from that point onwards, I knew that video games will never be the same. It's so trippy!
Awwwww! Christmas in Austria! Try to get to Germany during Christmas too! I hear it's wonderful in Germany! The Christmas markets are just marvelous for wondering around and getting into the good old festive spirit!
Me, my Christmas will be in Perth. How sad...
Hives
This week has been quite, well, interesting. First of all, I had been trying to manage this outbreak of hives! I broke out on Friday night at Andaluz after drinking a glass of red, and eating some bread with balsamic vinegar and some ocean trout (tapas style). All of a sudden, my neck felt warm and slightly bumpy and itchy. Didn't think much of it, and Kev took me home.
Saturday, the bumps and itch had moved to my jawline and cheeks. I thought to myself 'hrm?' But thought it would subside, and I went out on GNO. Here's a photo of me on Saturday late afternoon: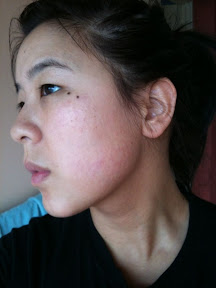 Sunday- bam! It got worse... By night time my whole face, neck and ears were burning and swollen. So Monday I went to the doctors, and was prescribed some steroid tablets. I returned to work on Tuesday, slightly better, but it's only up until today, whereby the puffiness and bumps have noticeably reduced, and now I just have peely dry skin.
Thanks to all the pharmacist friends out there who have given me heaps of awesome advice. Oh, and Shaz's mom who said I should stay out of the wind, and wrap the hive parts with something red =/
I have photos, but I look sad and puffy. So I'm not going to blog them =)
Modo Mio
Tonight, Kev took me out for a surprise! It was our 'date night' and our plans were to go to Hillary's for dinner. However, he detoured us, and next thing I knew it we were at Burswood, where he walked me to Modo Mio Cucina Italiana!
I've been wanting to eat here for a while, however I just never had the time or we couldn't get a booking. Here's is a photo of our entree which was rich and delicious!
It's called 'Involtini di melanzane e ricotta, salsa al pomodoro'. Essentially it is eggplant with ricotta, sundries tomatoes with tomato basil sauce, and it was wonderful!
Since the lighting of the restaurant was suited for an intimate dinner, this was the best shot I could get on my iPhone. The other dishes didn't take so well on my iPhone, but they were just as scrumptious. Comfort food at it's best.
Moonlit night
As I left Kev's place tonight, he spotted the moon, and it looked quite mysterious. More so than usual:
Tomorrow after work, I drive down to Port Kennedy to play in a Kings and Queens indoor beach volleyball tournament on the weekend. I hope I am all good by then!