So this morning I couldn't wait open my next present.
Something fresh, fun and fruity?
I had a think about what this could possibly be. I thought back to our time together, and my mind was taken to Ibiza. Perhaps these were cherries, which was what I was obsessed with in Ibiza all because of the Pacha night club and because they looked so cute!
When I opened the present, I was totally wrong, but ecstatically surprised!
Pineapples!!
The earrings looked so bright and fresh that I just wanted to lick them! Pineapples do have a symbolic meaning to me. My social indoor beach volleyball teams are named Sons of Pineapple and Daughters of Pineapple, and of course, our time in Valencia where we had our fro-yo and our beloved Ilao Ilao: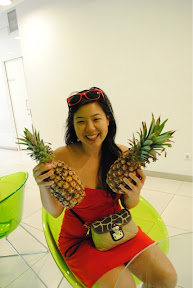 So random.
Haha! I love the randomness and fun of pineapples! Thank you soooo much!! You can be rest assured that I'll be wearing those earring this summer! =D